Miscellaneous Acoustics Projects
An exploration of the Helmholtz resonator using finite element to visualize sound waves

Helmholtz resonators are used to control noise propagating down pipes and ducts

Adding the resonator affects the system, and can make the problem worse at off-target frequencies

Begin the story here

Learn more about the software at Comsol, Inc.

Critical Bands demo for "Introduction to Acoustics" by Daniel Russell
Aural version of a figure in Russell's text
Demonstrates critical bands and beating through sine tones
Created with significant work by Brad Roche, a student in Acoustics I
Read the description and hear the .wav file here

Microflown Sensors deployed in a new Input Impedance head for brass instruments...
Read the proposal (pdf)

Check out the sensors -- a radically new way to incorporate particle velocity measurements
A quick description of the equipment, a new arrival in the lab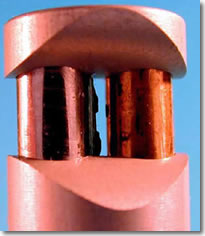 The Microflown sensor is mounted inside this 1/2" probe, along with a precision microphone.


Simple piezoelectric element and lavalier measures Input Impedance for less than $20...
Piezo disc from a Radio Shack buzzer fixed to a PVC coupler at its rim.

Voltage applied to the piezo disc causes it to flex, creating a sound source.
A lavalier electret microphone (also from Radio Shack) near the piezo disc, measures pressure.
Volume velocity is related to the voltage applied to the disc through a calibration function.
The ratio of pressure over volume velocity is input impedance.

Student help driving the project came from Tim Swieter, 2003 and Chidi Uhiara, 2004. Both are Acoustics minors.
Based on: A. H. Benade and M. I. Ibisi, "Survey of impedance methods and a new piezo-disk-driven impedance head for air columns," J. Acoust. Soc. Am.

81

, 1152-1167 (1987).

End Correction for varied flange and pipe sizes

A standing wave in a pipe depends on the boundary conditions at each end of the tube.
A closed end has a pressure maximum, but the pressure minimum for an open end is just beyond the tube.
The end correction is the difference between the location of the pressure minimum and the actual end of the tube.
The end correction depends on the type of open end - flanges of different sizes influence the end correction.

The "acoustical length" of the tube is related to its resonance frequencies.
By measuring the resonance frequencies, we calculate the end correction as a function of pipe radius and flange size.

Student Brandon Dilworth, 2004 (Acoustics minor) accomplished much of the work on this project.

Binaural Localization studies with the HEAD mannekin

The mannekin incorporates the effects of the head and torso on sound entering precision microphones inside the ears.
Impulse sounds were recorded at various azimuthal positions on a horizontal circle around the head.
The right- and left-ear signals were processed in Matlab and CoolEdit to observe how we localize sound via:


interaural time difference
interaural level difference
anatomical transfer function filter characteristics

Jason Kolenda, 2002 and Kim Pregitzer, 2002 worked on this project as part of their coursework in Acoustics.